Are you looking to pass your test first time? And have fun in the process?
Then you have come to the right place. Established over 20 years ago, Altrincham Driving School enjoys an excellent reputation with the majority of our customers coming through recommendations from previous students.
We have an unbeatable first time pass rate (over 90%) and are renowned for offering friendly yet high quality driver tuition in and around the South Manchester and Cheshire area.
You can read our latest facebook reviews by CLICKING HERE.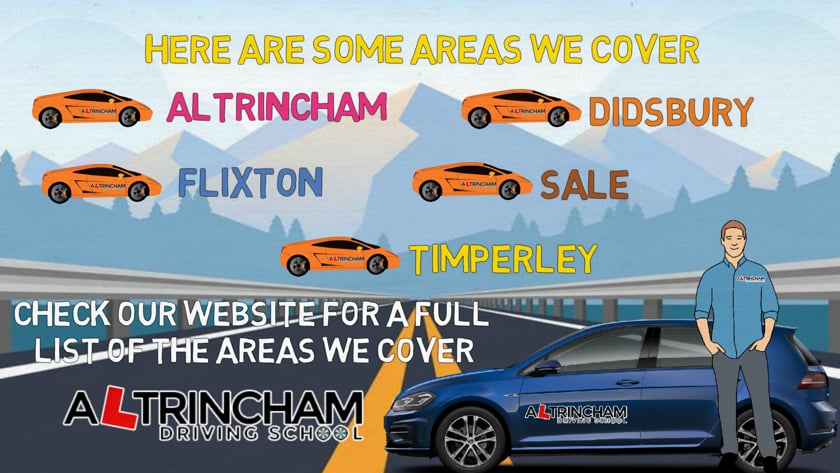 Dan is a top driving instructor, would recommend highly!
antastic instructor! Makes learning to drive a fun experience, absolutely recommend!!!!
an was absolutely brilliant and Altrincham Driving School offer a great service, I would recommend them to anyone!
Had the best time learning to drive, Dan was so relaxed and taught me how to do things in the easiest way possible. 100% would recommend
I have just completed a refresher course with Andy and I cannot recommend him enough. After a break of about 15 years from regular driving, I was very nervous about getting behind the wheel. Andy immediately put me at ease and was incredibly patient as well as calm and reassuring. Throughout the course of my lessons, Andy built me up to be able to cope with a range of different driving situations; starting with quiet side streets and main roads, through to dual carriageways, busy shopping areas, motorway driving and parking practice Thanks to Andy and Altrincham Driving School, I am now a much happier driver and feel confident about tackling the roads on a daily basis.
I couldn't recommend Altrincham driving school more highly. My tutor, Dan, was very professional and the lessons were very structured, with constructive feedback given at at the end of each one. Despite really struggling with my manoeuvres in the past, Dan's teaching method got me over that hurdle and succeeded where other instructors had failed. With his friendly and calm approach Dan is also great at helping to build your confidence and make you feel at ease. Thanks to Altrincham Driving School, I passed first time-- Big 5 stars!
Dan is friendly, professional, and a great driving instructor. He makes everything easy to understand, and is very patient. His sole purpose is to get you competant enough to pass your test as soon as possible, and not to squeeze you for more lessons as some other instructors. I passed first time, and with ease thanks to Dan. Highly recommended!
Dan is the most laid back instructor who has an excellent approach to telling you what you did wrong and how to correct it. Even though I was a slow learner and had some mishaps (broken bones) during learning he has unlimited patience and Is generally a decent guy. #dandrive
Definitely made the right choice using ADS every lesson was good and I was made to feel at ease and quickly became confident behind the wheel, with the help from Andy , couldn't of asked for a better instructor and I will be continuing to use ADS to do my pass plus
ADS are a great driving school; my instructor Dan was very necessarily patient with me at first and quickly built up my confidence on the roads and was very easy to get on with. I resulted in passing my test first time and as a safe driver and I would really recommend such a good service.
The lessons I had with Dan were always good. Friendly and honest advice from the start, every lesson was fun and educational, thanks to Altrincham Driving School I passed first time. Couldn't ask for a better instructor when learning to drive.
The Altrincham Driving School and my instructor Dan Clarke made learning to drive quick, easy and enjoyable. I would strongly recommend them to anyone looking to pass their test or just refresh their driving skills!
I am glad to say that the process of learning to drive was made as stress free and easy as can be for me with Altrincham Driving School! I give 100% credit to the driving school for passing my test so quickly and first time, like so many of my friends who also passed first time with ADS. It makes a huge difference having a great, experienced and relateable instructor who understands that for some the experience is a little testing, but I have to say I actually had fun learning.
Really great and incredibly patient instructor!
Daniel taught me to drive when I was 17 I was a little nervous, Dan was very friendly and made me feel very comfortable he was also quite humorous. He was very easy to talk to, he was also very happy to help me with my theory test, as for the driving I think he was a brilliant driving instructor, he made me feel very confident on the roads and also spotted my strengths and weaknesses very quickly. He also knew exactly when I was ready for my test, as I passed it first time. I was very very happy with the way Dan taught me to drive. He also did the pass plus session with me, which helps me a lot. I would recommend Dan to anyone who was thinking about learning to drive.
Dans a great driving instructor, helped me pass my test first time with only 2 minors! And had a laugh along the way, highly recommend him!
Dan is a first class instructor. From day one I felt relaxed, confident and totally safe. Whilst being professional and safe Dan manages to also keep a fun and friendly attitude on every lesson which creates the perfect learning atmosphere whilst not being afraid to push to get the best results. Dan was recommended to me by a friend, and I would personally recommend him to any one wanting to learn to drive without a doubt !
Why learn to drive with Altrincham Driving School?
We've got a lot to shout about!
Modern, air conditioned cars.  Click here to visit our FAQ's page and find out about the cars you will be driving.
Motorway Tuition / Pass Plus courses for just £170 for 6 hours.  We will build upon the driving skills and knowledge already gained by students during their lessons to make them safer and more responsible drivers.
Friendly, calm driving instructors that will put you at ease during our structured, progressive yet fun driving lessons.  Nervous students are especially welcome.
Lessons from £25. Click here to visit our shop where you can pre-pay for your lessons, purchase our special offers or buy Gift Vouchers online!
GET A FREE LESSON!!!
Get a 1hr lesson worth £28 free when you recommend a friend!  If you have any friends or family looking for driving lessons why not take advantage of this special offer and get yourself a free driving lesson. All they have to do is book a minimum course of 5 lessons and you get one free! Its that simple!
Give us a call or email us for further details.

EVERYONE WELCOME
So, whether you are a complete beginner (nervous students especially welcome), a learner unhappy with the progress you are making with your current instructor or an experienced driver looking to brush up your skills then call or text us on 07883029181 or drop us an email at hello@altrinchamdrivingschool.co.uk. You can also find us on Facebook where you can send us a message or post on our wall.t on our wall.
AUTOMATIC DRIVING TUITION
If you require automatic driving tuition please contact us for further details.
A Word From The Boss
Hi Guys, my names Dan and im the owner of Altrincham Driving School aswell as a Grade A Approved Driving Instructor. Im lucky enough to have a super team working with me here who aim to make your driving lessons a fun and friendly experience! CONTACT US now to get the ball rolling ( or should i say 'the wheels turning').